No Shearing Event This Year 
I'm not going to be able to do a shearing event here this year. Our shearer is unable to accept new customers.
In addition, I still don't have a date from her so I can't set up booking. I am sorry for any inconvenience this may have caused. 
If you have any questions, please call: (918) 815-1120
Two Levels of Shearing Services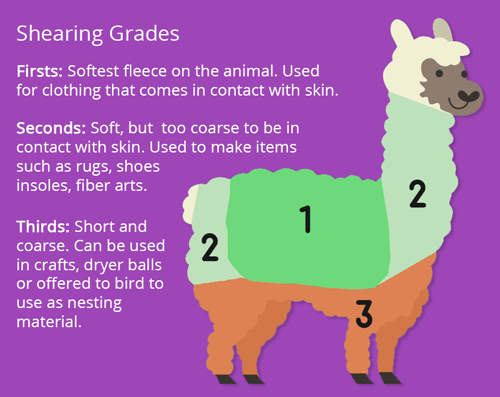 Fitzgerald Acres Alpaca Ranch is hosting a shearing event again this year.
Our shearer, Molly & Thomas with Drakeley Custom Shearing, will be out here on April 23rd and 24th. This is our 3rd year hosting this event with Molly and Thomas. They are wonderful! I've no doubt you will love them as much as I do.
Please note, this is a private event for alpaca and llama owners only.
We offer two levels of shearing services, DIY Services and Concierge Services.
DIY Services: You bring all of the supplies, bag your own fleece and clean up after your animal (hair, and beans, if necessary) Clean up tools will be provided. (See details below.)
Concierge Services: You bring your animals to us and we do all the work for you. The required supplies are included in the cost. (See details below.)
Fleece Grading
Firsts: (AKA blanket) This region starts on the side of the animal, extends over the back to the other side of the animal.
Seconds: This includes the neck, shoulder, and rump fiber.
Thirds: Is the lower leg, stomach and chest fiber, which is much shorter and usually more coarse.
Notes:
This is a stressful time for the animals so, to minimize their stress as much as possible, please do not bring guests who are not helping you with your animals.
Each alpaca must be wearing a correctly-fitted halter with a lead rope.
Someone must stay near the shearing area to identify the alpacas for us as they are being shorn.
Space is limited. Reserve your spot(s) today!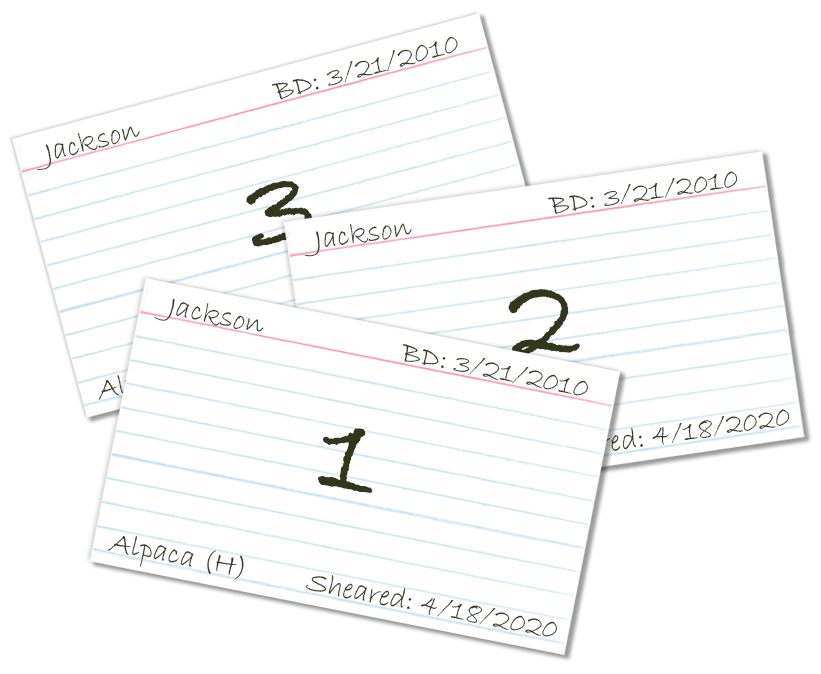 Cost is $40 per alpaca, which includes the following:
Shearing by grades (see notes below)
Trimming head and legs
Trimming toenails
Supplies to bring:
Index cards (three per animal). The following information about each alpaca must be printed clearly, in black marker, on each card (see notes below):

Write in the middle of the card, in large print: 1st, 2nd or 3rd.
Write the animal's name in the upper left.
Species in the lower left (Alpaca H, Alpaca S, Llama, etc.)
Shearing Month & Year in the lower left.

Clear plastic bags (three per animal).
DIY Notes:
You must have your cards filled out completely when you arrive.
You must collect and separate your own fiber into 1st, 2nd & 3rd fiber grades and bag it accordingly.
Bring your alpacas to us and let us do all the work for you. All supplies will be provided and we will clean up after your animal for you.
Cost is $50 per alpaca, which includes the following:
Filling out the fleece cards
Shearing by grades.
Separating fiber into 1st, 2nd & 3rd fiber grades
Trimming head and legs
Trimming toenails
Booking is Closed for this Year
If you have any questions, please call: (918) 815-1120
[CP_APP_HOUR_BOOKING id="1"]