Why Alpacas
"Quirky, inquisitive and endearing, raising alpacas is as close as I will ever get to having my own magical unicorns."The alpaca is a species of South American camelid descended from the vicuña. This little ruminant is similar to, and often confused with, the llama. However, alpacas are noticeably smaller than llamas.
In America, this easy-to-care-for livestock is raised for it's wonderfully sturdy and versatile fleece, also called "fiber". There are two kinds of alpacas, the suri (pronounced: SOO-ree) alpaca, which sports long, silky, curly locks, and the huacaya (pronounced: wah-KY-ah) alpaca, which grows a thick, teddy-bear-like fleece. The fiber from both species of alpaca is used to make clothing, fiber arts, blankets, rugs hats and more.
Because alpaca fiber is hollow, it is both lighter and warmer than sheep's wool and it is even water-repellent! It also lacks the lanolin coating of sheep's wool, making it a great alternative for people with wool allergies.
"Quirky, inquisitive and endearing, raising alpacas is as close as I will ever get to having my own magical unicorns."
As we continue to grow, we will need volunteers who are interested in helping with various tasks & events at the ranch, including, but not limited to:
Events: Setup, take-down & assist
Since we are just getting started, these volunteer opportunities will evolve.
If this is something you might be interested in, please fill out our volunteer application.
Get To Know Us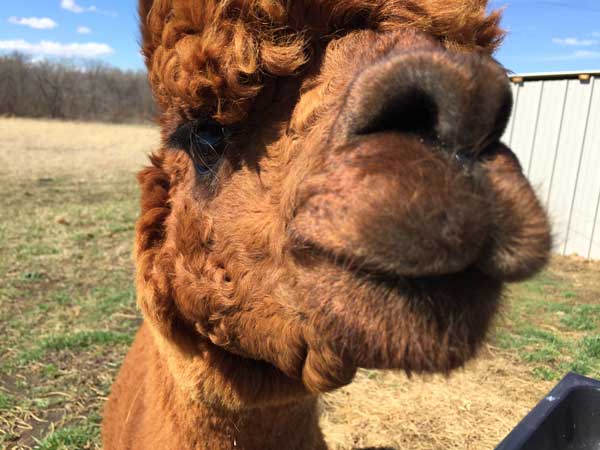 Meet Nitro's Challenger (Charlie)
Zodiac Sign: Taurus
Age: 11
Charlie is a smaller alpaca with a strong dramatic flair. He's really kind of a diva.
Alpacas make alert calls when they see potential threats, and Charlie is no exception. When one alpaca alerts, all the others pay attention and prepare to run. However, if they see the potential threat often enough, they eventually determine that it is not a threat and stop alerting.
Well… most alpacas do, but Charlie is not "most alpacas". Charlie alerts to everything he sees, and he NEVER gets used to it. Cats, birds, deer… plastic bags are all not to be trusted according to Charlie. In fact, Charlie has cried wolf so often that the others just ignore him.
Charlie also sings his alerts. Most alpacas sound like a giant squeaky toy crossed with a police whistle when they alert. Charlie's alert is downright musical! He skillfully draws out the end of his alert and lets it slowly fade away.
Fun Fact: Charlie shares a fence line with Thunder who loves to antagonize Charlie by standing close to the fence and staring at him. He does this until Charlie screams at him (which is not at all musical). When Charlie starts screaming, all I hear is "MOM! Thunder is looking at me again!"