Why Alpacas
"Quirky, inquisitive and endearing, raising alpacas is as close as I will ever get to having my own magical unicorns."The alpaca is a species of South American camelid descended from the vicuña. This little ruminant is similar to, and often confused with, the llama. However, alpacas are noticeably smaller than llamas.
In America, this easy-to-care-for livestock is raised for it's wonderfully sturdy and versatile fleece, also called "fiber". There are two kinds of alpacas, the suri (pronounced: SOO-ree) alpaca, which sports long, silky, curly locks, and the huacaya (pronounced: wah-KY-ah) alpaca, which grows a thick, teddy-bear-like fleece. The fiber from both species of alpaca is used to make clothing, fiber arts, blankets, rugs hats and more.
Because alpaca fiber is hollow, it is both lighter and warmer than sheep's wool and it is even water-repellent! It also lacks the lanolin coating of sheep's wool, making it a great alternative for people with wool allergies.
"Quirky, inquisitive and endearing, raising alpacas is as close as I will ever get to having my own magical unicorns."
Alpaca of the Month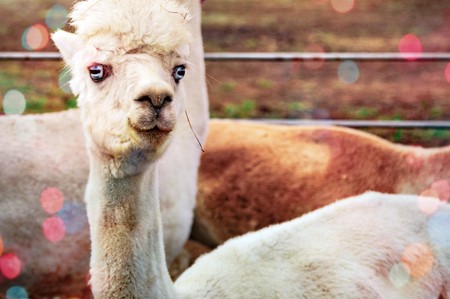 Meet Ginger
Zodiac Sign: Libra
Age: 16
This little blue-eyed girl is the second smallest alpaca on the farm. She is also pretty shy, but she has come a long way since I first brought her home. When I first met Ginger, she would retreat to a safe distance and hide behind something when people came around. Then she would peek out to watch what was going on. All you would see was her little head. Now when people show up, she comes right up to them to eat from their bowls.
Fun Fact: Ginger's white fleece and crystal blue eyes are linked to the gene for deafness. Thankfully Ginger isn't deaf, but she is a carrier of the deafness gene. This means that if I bred her to another carrier, the chances of having a deaf blue-eyed white (BEW) cria is even greater. Breeding is made even trickier because not all carriers are white with blue eyes. But that doesn't mean a BEW has nothing to contribute to the gene pool. Breeders have learned that it takes a BEW to create the popular grey alpacas.
As we continue to grow, we will need volunteers who are interested in helping with various tasks & events at the ranch, including, but not limited to:
Events: Setup, take-down & assist
Since we are just getting started, these volunteer opportunities will evolve.
If this is something you might be interested in, please fill out our volunteer application.